GREENFIELD HARVEST FESTIVAL
Downtown Greenfield hosts the Greenfield Harvest Festival Sunday, Oct. 19, a free music festival produced by First Night ArtWorks! outreach, with bands and traditional dance troupes, art and more! The afternoon certain to please the entire family includes interactive art for children, food and artisan booths, a car show, 5K run, parade and a pumpkin patch! Read more about the festival.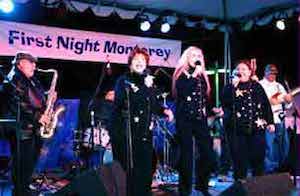 CALL TO ARTISTS - FIRST NIGHT MONTEREY
First Night Monterey announces the Call to Artists for FIrst Night Monterey 2015 to be held on Wednesday, December 31, 2014 from 3pm to midnight. Our theme for FNM 2015 will be SeaChanges, the Seaquel! Read more about the call and download the application form here.
NEW & EXCITING VOLUNTEER OPPORTUNITIES
FIrst Night Monterey has several upcoming volunteer opportunities, helping out at other local events as well as the First Night Festival. Help out with all kinds of activites in the office, setup or work with children's art activities at the Greenfield Harvest Festival in October, participate in art workshops in November and December, or put your production skills to work preparing for December 31st. Look for applications on our Volunteer page - we need YOU!
A SALUTE TO PAULETTE LYNCH & KEN PETERSON!
Thanks to all who attended our salute to First Night Monterey founders Paulette and Ken! It was a great evening, with exciting live and silent auctions. Your support for First Night Monterey and its outreach program ArtWorks! is greatly appreciated. See you at FIrst Night Monterey 2015, as we welcome in the new year!
THANKS TO OUR SPONSORS
We couldn't do it without you!