FALL BREAK ART CAMP
Imagine! Create! DIscover! An art day camp for children in Grades 1 through 6. Half-day and full day sessions are available, November 23 - 25. Your child will experience age-appropriate mentorship by our professional artist teacher and assistants in a fun-filled, non-competitive environment. See the camp flyer and download an application now – class size is limited!More...
PLANNING FNM 2016 "Art Connecting Communities"
Planning is in the final stages for First NIght Monterey 2016! We have an exciting schedule planned, sure to please your entire family. By buying a First Night Button, you support the First Night artists, keep FNM free for children under five and enable First Night ArtWorks! Outreach programs! First Night Buttons make great Stocking Stuffers! Find a hotel with our Celebrate and Sleep package. Click here to see the previous years' videos on YouTube. Return frequently to get all of the newest information about First Night Monterey 2016 on New Year's Eve. More...
TREE LIGHTING CEREMONY IN MONTEREY
Join us for Historic Downtown Monterey's Traditional Christmas Tree Lighting n fromt of Colton Hall! The ceremony will include carols, candlelight, cookies, cider and good cheer! The festivities will be from 5pm to 6pm on Friday, December 4th in front of Colton Hall.
CALL FOR ARTISTS FIRST NIGHT MONTEREY
First Night Monterey is now accepting applicaitons for performing artists for First Night Monterey 2016, to be held on December 31, 2015. This year's theme will be "Art Connecting Communities" and we are looking forward to a fabulous event to welcome the new year in a family-friendly environment. More...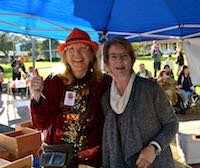 VOLUNTEER WITH FIRST NIGHT MONTEREY
Make it a great end of the year! Get involved right now, as well as on December 31! Volunteer at FIrst Night individually or as a group! Students age 16 and over: Build up your community service hours volunteering in a fun and creative environment! We have all kinds of fun and interesting positions, from working with artists and children at events, to helping out in the office. Call the office at (831) 373-4778, and let's see if we can find a volunteer slot that fits your interests and skills. More...