About First Night Monterey
First Night Monterey Mission
The mission of First Night Monterey, Inc. is to bring families together and unite our community in all its diversity through the visual and performing arts, to foster the public's appreciation of visual and performing arts and to celebrate families and community through workshops and the New Year's Eve celebration. First Night Monterey, Inc. is a nonprofit 501(c)(3) organization; programs are designed to appeal to people of all ages and backgrounds and to broaden and deepen public appreciation of the arts. The centerpiece of First Night Monterey is our alcohol-free celebration on New Year's Eve in downtown Monterey.
First Night Organizational History
The First Night concept was created in 1976 by a group of citizens in Boston. The tremendous success year after year inspired First Night Celebrations in cities throughout the U.S. and Canada.
First Night Monterey (FNM) was started by Paulette Lynch and her husband Ken Peterson in 1992, aided by a group of artists and Monterey Peninsula residents who wanted a creative alternative to the traditional New Year's Eve revelry. Paulette came to Monterey from the Boston area, and brought the First Night model to Monterey. First Night Monterey premiered with First Night Monterey 1993 on December 31, 1992 to wide acclaim.
Profile of Our Family Arts Celebration
Today thousands of residents and tourists alike rate all the programs very highly. They talk enthusiastically about the spirit of joy and hope that makes First Night so valuable to them and their families. Our volunteer core has grown along with the audience and participation as an artist becomes more competitive each year. First Night Monterey has won awards for promoting the arts, building community and creating innovative programming.
The Official Millennium Celebration for Monterey County
Designated a Signature Event by the City of Monterey
Wide variety of musicians, dancers, singers, poets, and more
Performances, exhibits and arts activities from 3 PM to midnight
Over 20 venues downtown -- indoors, outdoors and historic sites
Multicultural in all respects -- sharing traditions as well as visions for the future
Carefully selected, high quality presentations
Welcoming atmosphere for people of all ages and abilities
Affordable, accessible and alcohol-free celebration of New Year's Eve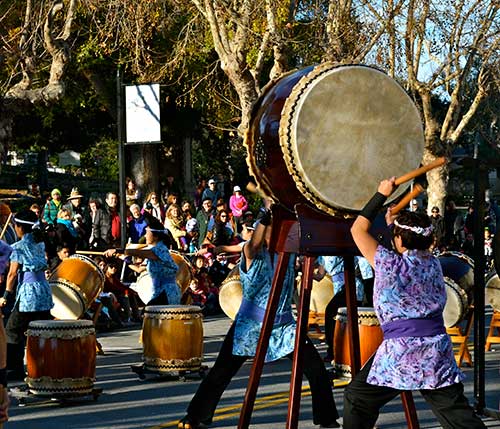 ArtWorks! - First Night Monterey Outreach Workshops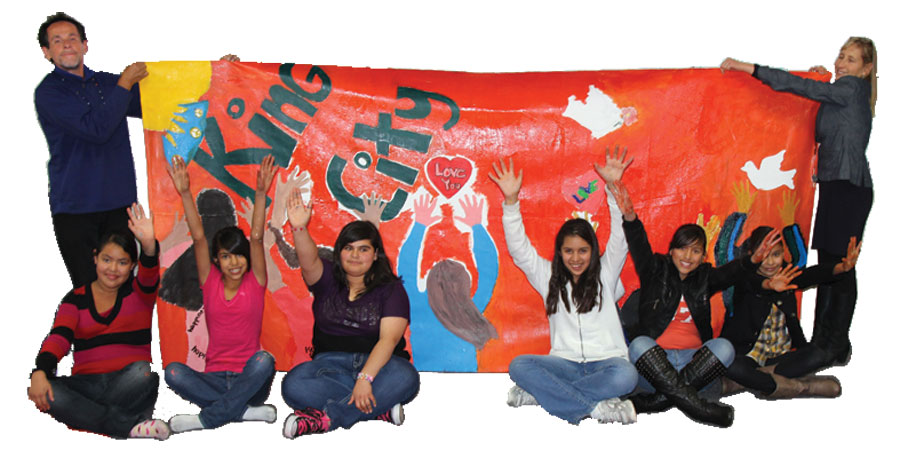 First Night Monterey works in collaboration with local organizations, schools, libraries, youth, families, young adults and seniors to showcase our culture and community through the arts. Professional artists lead these workshops throughout Monterey County during the year.
We work to find ways to fully engage our students and audience and to show them how the arts enrich their lives and their communities. In recent years, a number of innovative collaborations brought poetry and visual arts workshops to the migrant farm worker community, free arts workshops to the people at community gatherings in Salinas, Greenfield and Gonzales, and brought eleven local arts organizations to the Celebration, offering them an unprecedented opportunity to reach new audiences and to enrich the programming at the event. These partners included: Arts Council for Monterey County; Artistas Unidos: Big Sur Arts Initiative; Big Sur Spirit Garden; City of Monterey; City of Salinas; Monterey History and Art Association; Monterey Museum of Art; Poder Popular, and Spector Dance. Read more about ArtWorks!
Community Feedback
"Once again, on behalf of the City Council, the citizens of Monterey, and every person who has attended First Night Monterey, we thank you for building a stronger and healthier community through the arts, for strengthening families, for uniting our community, for making our community a better place, and lastly, for giving us a celebration that stays within our hearts throughout the entire year." - Mayor Dan Albert, City of Monterey
"Best year. We saw Broadway, Parade, Monterey Brass, Opera, Golden Bough, Feynman. All did a wonderful job!" - P. Little, Carmel
"We have been attending First Night in Monterey and Santa Cruz (split about evenly) for the past ten years. We thought the entertainment we saw last night was the best ever. Thanks for the great choices." - L. and R. Cooper, by email