Make a Tax-Deductible Contribution
Celebrate 25 years with a gift! - Help us keep the arts in childrens' lives
First Night Monterey is a nonprofit charitable organization 501(c) and your donation is tax deductible. You will receive a letter acknowledging your donation for tax purposes.
Gifts from individuals, businesses, and foundations help First Night Monterey to accomplish its unique work of building community and celebrating diversity through the arts.
Join Us as we Unite our Community through the Arts!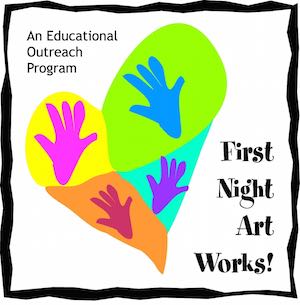 How Your Company Can Be a Sponsor at the 25th Annual FNM
Contact Executive Director Ellen Martin for details by email or call the FNM office at 831.373.4778. Levels of Sponsorship and corresponding marketing opportunities vary. Let us find an opportunity that complements your company image and fits within your budget!
Your sponsorship is the key to keeping our award-winning programming affordable for all children and families.
First Night Monterey brings together people of all ages, races and backgrounds. Last year, nearly 20,000 people sampled jazz, folk and classical music. There were venues that introduced our community to a variety of dance styles, supplied opportunities to design and build masks, hats, and puppets. Each year participants see themselves, each other, and our community in a brand new way ... In an atmosphere electric with joy and hope.
Your support is needed now more than ever as we expand our outreach workshops, extend our celebration 'footprint', and plan for the 25th annual First Night Monterey celebration "Celebrating 25 Years of Magic".
Thanks to the leadership and generosity of our past donors and sponsors, First Night Monterey has become a treasured family tradition. The New Year's Eve arts celebration showcases hundreds of talented visual and performing artists. Through our Outreach workshop programs, hundreds of young people work together under the guidance of professional artists to produce larger-than-life puppets, murals, original poetry, and more.
First Night Monterey has been honored by the following associations:
The Arts Council for Monterey County
The California Arts Council
First Night International
The Monterey County Herald
The Coast Weekly ('Best Community Event 2011')
The Salinas Californian