Skip to main content
FIRST NIGHT BUSES AND WHERE TO PARK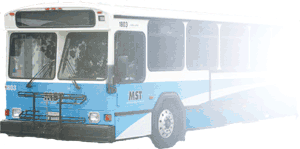 Part of the First Night Monterey experience is taking the First Night bus, and MST makes it easy! MST BUSES ARE FREE WHEN YOU WEAR YOUR FIRST NIGHT ADMISSION BUTTON*, thanks to the generosity of MST!

PARK AND SHUTTLE
Note: FNM does not provide valet parking. The FNM footprint is closed to all vehicular traffic, including bicycles (except when walked) and dogs.
If you come by car,
Park and lock your car at the Del Monte Shopping Center, near Macy's Lower Level, by the closed Furniture Gallery (Map)
FREE buses will pick you up at MST bus stop kiosk at Macy's Lower Parking lot (in front of the old Macy's Furniture Gallery) every 15 minutes beginning at 3:15 PM
Buses will take you to the downtown Monterey MST Transit Center at Alvarado and Pearl (Simoneau Plaza)
Catch the bus back to Del Monte Center at the Simoneau Plaza Transit Center anytime before the last bus at 12:28 AM (Map)
If you choose to ride your bicycle, there is bicycle parking near the shuttle bus stop at Del Monte Center. There are also bicycle racks located throughout downtown Monterey along Alvarado Street - and including larger racks at the Sports Center, near Peet's, near Aquarian bicycles and near Pino's at the end of Portola Plaza, as well as at both wharves. Please be courteous and walk your bike within the FNM footprint. Bicycles are not permitted inside any venue.
Lock your vehicles and keep packages out of sight. First Night is not responsible for lost or stolen items.
RIDE THE BUS FREE TO & FROM FIRST NIGHT MONTEREY
Getting to First Night Monterey:
For those wearing First Night buttons, free rides are available on all operating MST lines beginning at 3PM. MST will operate a Saturday schedule on New Year's Eve, December 31, 2021. Note that there are NO LATE NIGHT BUS ROUTES THIS YEAR, except to Del Monte Center. MASKS ARE REQUIRED TO RIDE BUSSES.
Getting home from the Monterey Transit Plaza:
Schedule to be announced
Use MST RealTime tools (text, phone, or Transit app) for up-to-the-minute bus arrival information. You can also visit : www.mst.org or call 1-888-MST-BUS1 (1-888-678-2871)
© 2021 First Night Monterey All Rights Reserved