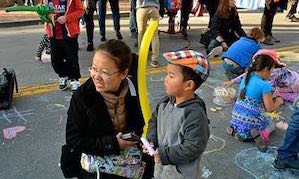 FIRST ACT FOR THE YOUNG-AT-HEART!
The most creative New Year's Eve for your family! First Night Monterey and Kids' Night Out kicks off at 3 PM with the Opening Ceremony at Colton Lawn on Pacific Street; Kids' Night Out culminates with the 5:30 PM Twilight Procession serving as the Finale. Music, song, drumming, dance, ballet, folk dancing in traditional costumes, face art, art creating, hat making and more will complete your artful time!
Kids' Night Out Early Acts: Out by 9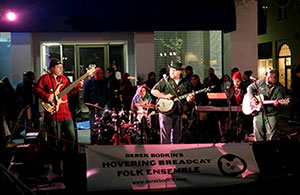 THE SECOND ACT: THE MAIN EVENT!
Buy Buttons and "Button-up" for 9 hours of entertainment! From Classical to Jazz, Bluegrass to Rock, Samba to Folk! FNM 2020 will have a line-up of over 65 performances designed to delight the entire family. World dance! International costumed dancers, including Chinese Lion dancers. Dancing to the sounds of oldies, rock-n-roll and tropical beats.
Monterey Center for Spiritual Living: This beautiful Sanctuary will resound with mellow sounds, beautiful voices and great arrangements throughout the night!
Multiple Venues throughout Downtown including the beautifully remodeled Conference Center feature Music, art and community! Dance to the sounds of live bands; Celtic, Folk, Latin, Marimba are just a few of the sounds you will hear. View art exhibits from First Night-sponsored workshops from Greenfield to Salinas and Marina, and post your hopes and dreams for the New Year on our Resolution Sculpture.

FINALE PERFORMANCE - NEW YEAR'S EVE COUNTDOWN
The Grand Finale! Live music from featured performers will bring us into the New Year with a countdown to midnight! Special surprise guests may be dropping in to join the band - you never know what might happen at a First Night finale! Whether you want to be on your feet dancing or just sitting back and enjoying the tunes, you can guarantee a fun and exciting time into the New Year.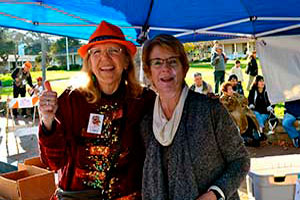 CALL FOR VOLUNTEERS FNM 2020
It would not be possible to present FNM without the support of hundreds of volunteers. First Night volunteers last year included teens, military personnel, retirees, service organizations and community members just like you! Volunteers working 4+ hours on New Year's eve earn a free admission button! Volunteering with FNM is a great way for youth to fulfill their community service hours; artful activities are ongoing through December.
Read More

about Volunteering.