PLANNING FNM 2016 "Art Connecting Communities"
Planning is in the final stages for First NIght Monterey 2016! We have an exciting schedule planned, sure to please your entire family. By buying a First Night Button, you support the First Night artists, keep FNM free for children under five and enable First Night ArtWorks! Outreach programs! Find a hotel with our Celebrate and Sleep package. Click here to see the previous years' videos on YouTube. Return frequently to get all of the newest information about First Night Monterey 2016 on Thursday, December 31, 2015.
FIRST ACT FOR THE YOUNG - KIDS' NIGHT OUT!
The most creative New Year's Eve for your family! Our afternoon program and Kids' Night Out kicks off at 3 PM with the Opening Ceremony at Colton Lawn on Pacific Street, culminating with the 5:30 PM Twilight Procession serving as the Kids' Finale. Music, song, drumming, dance, ballet, folk dancing in traditional costumes, face art, balloon magic, art creating, hat making and more! Activities at the Colton Lawn and Monterey Museum of Art on Pacific Street, and at Alvarado/Galleria complete your artful time! See Kids' Night Out for afternoon activities and early evening programming.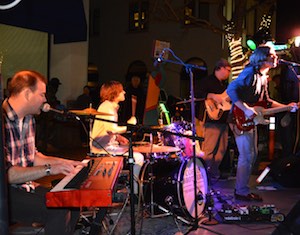 THE SECOND ACT: THE MAIN EVENT!
"Button-up" for 9 hours of entertainment! From Classical to Jazz, Blues to Rock, Samba to Folk! FNM 2016 will have a complete line-up, delighting the entire family.
World dance in the street! International costumed dancers will be on the streets. Dancing to the sounds of oldies, rock-n-roll, tropical beats and West African sounds. Join your friends dancing with the Wii game "Just Dance!" Buying blinkies and light ups from our kiosks supports First Night and our art outreach programs.
Monterey Center for Spiritual Living: This beautiful Sanctuary resounds with mellow sounds, beautiful voices and great arrangements; choral, classical and cool jazz throughout the night!
Various Venues throughout Downtown, including the historic Golden State Theatre: Music, art and community! Dance to the sounds of live bands; Celtic, Folk, Latin, Marimba are just a few of the sounds you will hear. View art exhibits from First Night-sponsored workshops from Greenfield to Salinas and Marina, and post your hopes and dreams for the New Year on the Resolution Sculpture.
See a Sneak Peek of our 2016 program.
FINALE PERFORMANCE - NEW YEAR'S EVE COUNTDOWN
The Grand Finale! Live music from featured performers will bring us into the New Year with a countdown to midnight! Performance details will be available in December. See last year's Program Guide for a description of the Finale to 2015.